Lounge Review
Review: American Airlines Flagship Lounge & Flagship Dining New York (JFK)
I finally got to visit one of American Airlines' top-tier lounges - The Flagship Lounge at New York JFK - which features the "Flagship First Dining" facility that's been on my list for quite a while!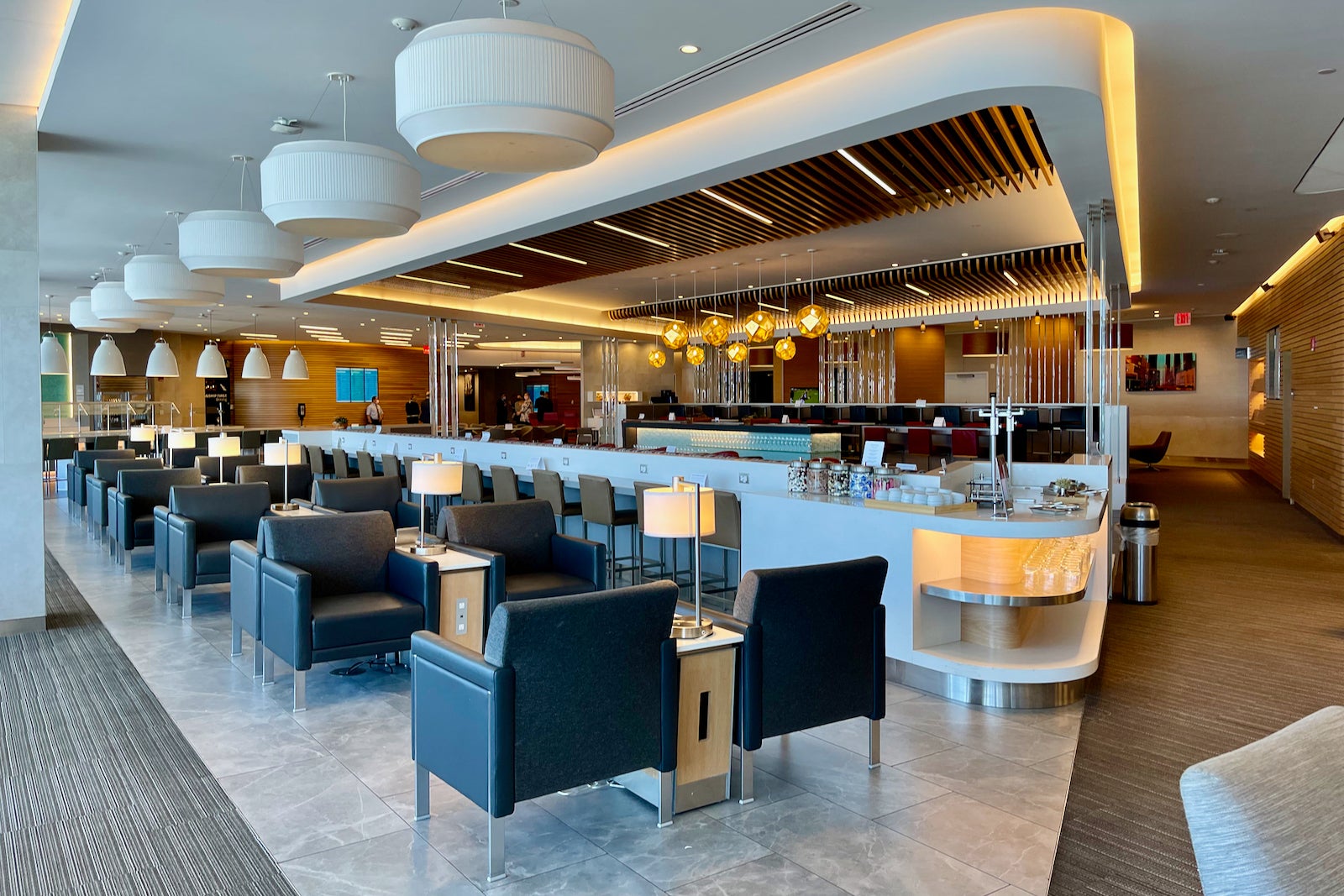 Apart from the JFK location, AA currently operates Flagship Lounges in four other major hubs: Chicago (ORD), Dallas-Fort Worth (DFW), Los Angeles (LAX) and Miami (MIA).
In case you missed it, I recently got to experience flying on AA's Flagship First product from San Francisco to New York. During this trip, I also reviewed the Admirals Club at SFO, the Virgin Atlantic Clubhouse at SFO, and of course, the Flagship First flight.
---
Location & Hours
The lounge is located in New York JFK's Terminal 8, on the mezzanine level after Concourse B security checkpoint.
Hours are 4:30am - 11:15pm Daily. Note that Flagship Dining ends at 10:30pm.
See official site for most up-to-date info.
---
Access
The most straightforward way to get access is if you are traveling in First or Business on a qualifying international, transcontinental or select domestic flight operated by American or one of its partners.
Unlike Delta, most domestic American Airlines flights actually are not eligible for lounge access - even when flying First Class (as I found out the hard way)!
My transcontinental flight from San Francisco to New York was what made me eligible. It's awesome that the access is not only limited to departures, but also for connections and ARRIVALS! Additionally, since I was flying in Flagship First, I also was able to experience the exclusive "elevated, sit-down dining experience" called Flagship First Dining!
For full details on how to get access, check out the official site.
---
My Experience
This is going to be a relatively short review, since I only stopped by briefly after my arrival into New York. I did only a quick walkthrough of the general Flagship Lounge area, and spent most of my time in the Flagship Dining room!
Check out some video footage I got from the AA Flagship Lounge at JFK. Start at the 6:44 mark to see it (sorry, wasn't able to get a lot of footage!):
Check-In
I was honestly not sure if I could get in, since some lounge access (such as for Amex) can be limited to just departures and connecting flights. From what I could find online, eligible passengers also have access, it's just not common for people to stop by after landing.
Since it was on the way, I decided to give it a try. Upon scanning my boarding pass, I was welcomed into the lounge!
Flagship Lounge
I must have arrived during peak hour, since the lounge was super crowded! There were lots of flight announcements for Europe-bound flights! However, within half an hour or so, the crowds thinned dramatically.
Here are some pics of the general lounge area:
Much emptier lounge just half an hour later:
But, of course this wasn't why I came. Here's a hint to where I'm headed:
Flagship Dining
Located in a nondescript corner of the lounge is the entrance to this exclusive "lounge-within-a-lounge" experience. Access is only granted to select passengers, and features a French style fine-dining experience - all complimentary of course!
It turns out that my boarding pass was not enough to gain entry. I actually had to return to the main check-in area to get an invitation card (apparently they don't just offer it to you...I wonder how many eligible passengers missed out on this...).
Upon entering the Flagship Dining room, it felt like I was teleported to a whole different world! I was suddenly free from all the chaos and noise from the main lounge area. It reminded me a lot of my United Polaris Dining Room experience!
I picked a seat facing the airfield. This is really an aviation enthusiast's dream! Fine-dining while watching planes!? This is heaven!
After being seated, I was offered some sparkling water and introduced to the menu. The whole experience was very posh, and I honestly felt very out of place. I mean, people probably pay top-dollars for this experience...while I got in for free 🤣.
Unfortunately, I was already stuffed from all the eating from my flight, so I opted to just sample a few appetizers. Here's the menu:
The meal started with the Amuse-bouche:
Next up, Tuna with Soy Caviar:
I also decided to get the Pizza Rustica Tart since it looked interesting:
Here's a couple more pictures of the dining room:
Unfortunately, I had to skip the main and dessert as I was beyond stuffed. I also opted to not get any alcohol since it was getting too late and still had to subway back into the city.
For more details on the dining experience, check out this really detailed review by View From The Wing!
---
Conclusion
The highlight of AA's JFK Flagship Lounge was definitely the Flagship Dining facility! The spectacular tarmac views, private dining environment, and the amazing service make this a must-visit if you are flying on an eligible ticket.
At times, I was the only passenger in the space, which made this dining experience even more surreal. There was also a lot of plane activity below, so that was very entertaining for me while I dined!
However, I found the rest of the Flagship Lounge to be pretty lackluster. It was chaotic, crowded, and not worth coming early to the airport for. Check out my reviews of other lounges at JFK such as the Amex Centurion Lounge and the Delta Sky Club!
Really wished I had more time (and more of an appetite) to enjoy this private dining room and hope to be back again soon!
---
Like the Content? Additional Questions?
If you enjoyed the content and/or have found it helpful in any way, please consider supporting this site by using any of my referral links or simply by giving a like/follow on Instagram, Facebook, or YouTube!
If you have any additional questions or feedback, feel free to leave them in the comments below, or reach out directly on social media!
---
Disclaimer
This site is for informational purposes only. Contents and opinions expressed are the author's alone and your experience may vary. The author is not a financial/investment/tax/legal professional of any kind. CreditFred strives to provide the most accurate and up-to-date information possible, but the strategies and tips provided should not be replicated before you conduct your own research and, if needed, consult with a financial professional.